An official note from the creators of Lazer Hot Hits:
Just to put things in perspective: this crew has no relationship whatsoever with the original LASER, or LASER 558, (notice the S) that broadcasted ed on AM from the ship 'mv communicator' located in international waters in the North Sea during 1983-1987. But of course we share some principles, so you will understand when you read on.
During the early nineties, New Beat was in its last phase, and a new music phenomenon was about to spread: HOUSE. As all new music styles, House was adored by the youngsters, but outcasted by the established government, national press and radio stations. House was presented to stimulate young people to take drugs, participate in acts of violence, and other, more negative aspects of our society. Just imagine that these people, who now condemn House, were the same generation that loved 'Rock and Roll' 20 years earlier!
(Of course, history has proved them wrong, and today House music has been recognized as the most important musical revolution of the nineties...)
As a direct result however, DJs and record labels did not get any airplay on the national media and the Internet was not really developed yet. At that time LAZER was started off.
AT first, LAZER was a pirate radio station, playing non-stop house music in 1991 . Tapes were recorded during weekend nights in famous clubs and by various top DJs. Later on they were broadcasted on FM in their original versions. All mixed, with no real spoken anchor men.

What's in a name?
The name LAZER was chosen, because of several reasons:
The original LASER did not exist anymore.
A direct 'feeling' with the background of a pirate radio station.
The English spoken jingles of the original Laser were a good 'fit' with our music style and were available immediately, without real investments.
The original concept of using a laser effect sound signal, containing a long-short-long tone, which --in marine terms-- means 'I want to communicate', reflects the same basic principles of this crew: trying to promote House and Dance music.
The first transmissions were broadcasted from Antwerp, Belgium, on the frequency 97.1 FM.
The result was astonishing! In a few weeks time, LAZER became enormously popular and was heard in all 'boom-cars' on the road. But nobody knew where the signal came from, nor who was behind the project. Several news reports indicated that LASER, the original AM radio station from the eighties, had begun to transmit again, but this time on FM and from a ship on the North Sea, or near the Antwerp harbor.
Unnecessary to say that at the time we heard those news reports, we were rolling on the floor, laughing!
The whole dance and house scene immediately supported LAZER with the newest records, advertising and co-marketing. The first LAZER parties were organised at the famous club 'La Rocca', located in Lier (nearby Antwerp, Belgium). For the first time in Belgian history, a house party was live broadcasted on the radio. Party people who arrived by car at the party, were already listening to the live music from the club they were about to visit. This really gave a 'special touch' to our project.
During 1989 and 1993, several frequencies (87.7 FM, 88.6 FM, 100.3 FM, etc) were tested and new locations (Ghent, Brussels, Ostend, and even several cities in The Netherlands) were added. At its peak, you could hear LAZER all over Flanders, Brussels, and half of the Netherlands territory in stereo. (At that time it was forbidden for local radio stations to broadcast a stereo signal)
The main revenues of LAZER came from advertisements of the many new emerging House discotheques and from organizing LAZER parties in many clubs. However, the main losses came from confiscations of the radio- and studio equipment by the Belgian government (LAZER never got a license and was confiscated several times, because 'we were the devil'). Even legal radio stations, who had an official license, were harassed, and in one case a license was even revoked, because they played House music and mentioned the LAZER parties.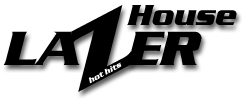 But more and more legal radio stations began to capture the signal and relay it, others saw the potential of this new House scene and began to promote House music on their own. Finally, a national radio station, Studio Brussel, could not ignore this new music trend any longer, and began its own radio shows with House music, organising their own parties with live music from the clubs.
By the time LAZER had to stop its transmissions in 1994, House music could not be stopped anymore...
If you have info which is helpful to complete this story, or if you were a listener or party visitor at that time, maybe you have old tapes, stickers, etc? Please let us know!